Interview by Charlotte Seager from the Guardian
Londoner Matthew Ahmet left school at 16 to learn kung fu at China's famous Shaolin temple. After years of gruelling training he now makes a living from performing with the monks around the world
I have always loved martial arts. Growing up I was inspired by Bruce Lee movies and I began training at the age of six, studying karate, win chung and others. Then when I was 11 the Shaolin monks put on a UK show for the first time. Seeing martial arts on TV was one thing, but seeing these guys perform incredible feats – such as a one-finger handstand – just blew me away. It gave me the long-term dream to want to travel to China and make martial arts my livelihood.
When I was 16 I decided to move to China. School wasn't necessarily negative but it wasn't challenging me and I felt bored. I was doing well but every year I was counting down the days until the chance I could pursue martial arts. I was always told to wait and that it was going to get better – but I just didn't feel like it was the right path for me.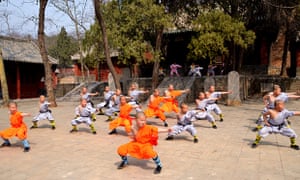 When I arrived at the temple, I was thrown in the deep end. Straight away you're waking up at 5am and training 10 hours a day. It's very intense and the level of discipline and focus is extremely different to what we're used to in the UK. It's strict with a lot of punishment. If you're not lined up on time in the morning, you get beaten with a stick. I didn't see any abuse but I did see a lot of discipline. Everyone knew that if they stepped out of line they would be getting punishment. It was either some sort of beating, or you were made to hold a headstand on concrete for hours on end. Which is extremely painful. So that aspect of it was shocking.
It was a culture shock. In western cultures, it's all about looking good and feeling good – but in eastern cultures it's about being the best you can be. Everything was about how you can get rid of that ego. In the UK I had everything – PlayStations and TVs – but I didn't even make my bed. In China I had nothing. My thin bed was just a plank of wood with bed sheets that had to be folded every morning. Living like that at the start was challenging. Forget the training, just the lifestyle change was immense.
I never wanted to leave, but I did miss home. You get lonely at the start, but what kept me going were the others training alongside me, some of whom were as young as five years old. When I was struggling to balance a handstand, I would look to my left and see two five-year-olds just holding it. They were also in pain, but their focus allowed them to push through it and achieve their goal. There were times when I felt like giving up, but I think being in that community motivates you. It's a very close relationship – you live, sleep and train with these guys. They're your brothers.
When I started to do small performances around different provinces in China, I felt like I'd made it. I had always wanted to become a Shaolin monk and now I was living in the temple and learning their philosophy. It really felt like the pinnacle of my journey.
My career highlight was appearing in the Wheel of Life show. It was just incredible because that was the same show that inspired me when I was young. And 10 years later my wheel of life had continued to turn and I ended up being in the very same show. So it really touched my heart and gave me focus and passion for what I was doing.
Kung fu is something that anyone can put their mind to. All you have to do is remember that without struggle there is no progress. It's not going to be easy, but with hard work and dedication you can achieve anything.
If you want to become a Shaolin monk, you can't rely on your teachers. You personally have to give it 100% and make it happen. And don't listen to anyone who tells you no or gives you any negativity, they will be the same people congratulating you 10 years on.
Matthew Ahmet is a London-born practitioner of Shaolin kung fu, and performs shows with the Shaolin temple worldwide. In 2009 he set up the Shaolin temple Cheshunt, home to the Shaolin Warriors London.
Original article – http://www.theguardian.com/careers/2015/nov/03/want-to-be-a-kung-fu-master