On a small subtropical island such as Okinawa, it is usually physically impossible to take a road less travelled. However, if you are up to the challenge, you may find a certain small karate dojo in Yomitan to be just that rarely available detour.
When I got to Okinawa, I didn't know a lot about martial arts, though I knew that Okinawa was considered the birthplace of karate in Japan. And, after having watched the Karate Kid movies, I thought it would be great to learn the way of karate at its source. The only problem was that I wanted to study it for my own personal satisfaction and self-improvement, not to fight in the ring or perform for others to see and judge on the tatami.
There are many places on Okinawa that will teach you the basic moves of karate, on and off the military bases. Luckily, I did not know about them when I saw the UechiRyu Zankyokai Dojo in Nagahama Yomitan for the first time. The location, environment, students and, of course, the sensei all made a positive impression on me. My intuition did not let me down since the philosophy, principles, and rules of the Uechi Ryu style have also appealed to my senses.
Surprisingly, the teacher (Seizan Sensei) is an American – trained almost wholly here on Okinawa, licensed and certified a true "Hanshi Kyudan" – a 9th degree black belt holder – and the only foreigner residing in Japan holding that rank level in the UechiRyu system. He began training in UechiRyu in 1974 in the States, but has been training on Okinawa since 1979. He teaches classes 50/50 in Japanese and English, so there was no barrier to learning the finer points and more subtle philosophies of the art.
His Okinawan wife (Sumako) teaches Yoga on Saturday mornings, too, and is a licensed Thai Masseuse. That's right – all this under one roof!
Most importantly, this dojo offered me an opportunity to train and practice alongside my husband and daughter as opposed to just sitting outside and waiting for the session to be over. An ability to study the principles of karate as a family has been paramount in our quest to embrace this particular way of life. We don't compete at tournaments in this dojo, so there is no pressure to beat total strangers senseless in front of family members!  The dojo is a place where one can do physically challenging exercise, relax with a green tea and a snack during the break period, or it can be a healthy psychological outlet after a long day when you leave all your problems outside the screen door and just practice karate for a few hours.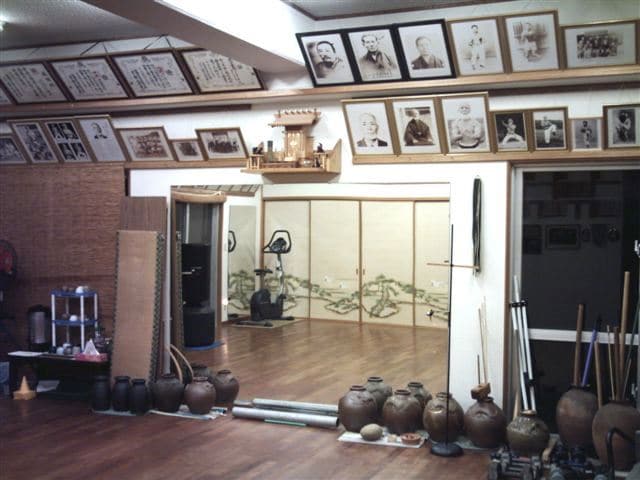 As time passed, the learning process allowed me to understand that true karate is not simply a martial art, but a life art – a true lifestyle. Personally, I can apply the knowledge gained long after I leave Okinawa.